The Chart Book: Weekly Recap
Welcome to the weekly recap – Starting off with a look at the S&P overall, I'm hesitant to draw any conclusions on a decisive move higher/lower; we have legitimate wave counts in both directions, so being more patient and risk-averse is a sound strategy for this week. I can see prices re-testing the 2800-2835 zone with 2800 being a very important line in the sand looking to the short/medium term.
That brings me to a thought for this week around the importance of having a fairly balanced portfolio – not having your positions too skewed to one side is VERY important, and this is against your entire portfolio (longer-term investments, short term trades etc…). If your portfolio is mostly long positions, you may want to forgo some of the bullish trades and add a few bearish ones and vice-versa. This is a very good way to manage overall portfolio risk.
Let's dive into the recap of last weeks ideas:
*For ease of reference, we've left the previous updates in this email below this weeks commentary…
Closed positions: (net % moves of the stock)
1. ROKU – Gain of ~35%
2. CRON – Loss of ~8%
1. TTWO (Long from $93) – Last week's high was $109.50 (so just shy of entering our $110-$115 zone), having already booked about 8% profits on this position (into our first target of $100), we can adjust our stops to $97.50 (locking in about $4 of profit) and look to exit another portion at $113. If $113 is hit, I would encourage you to keep a portion of your position open for higher levels – which we can get into if prices reach this objective.
2. ABBV – Again, no breakout occurred here, we are going to look to be buyers at $81 with $75.50 stops (about a 7% stop loss). Confidence in the longs grows if prices move above $85, at which point we would bring stops to break even.
Also, be open to selling below the January lows.
3. CVNA – Prices moved lower into $61 before moving back up to nearly $70. The formation is still intact and we continue to look for lower prices. If you have shorted the stock, move stops to break even. If in options, continue to hold.
4. URA – Largely unchanged from last week, would like to see prices move above $11.70 which should produce a move to the upside – stay long.
5. IP – Prices fell into the "c" wave highlighted on the chart around $44 and are trading slightly higher – staying long. Stops could be really tight at $43.50, but ultimately this count is valid against the $37.50 lows. Each trader will manage risk differently, but you can certainly use those levels as it fits into your style.
New Ideas for this week – Bank of America (BAC) & Citrix Systems (CTXS)
1. BAC – We had recently traded XLF to the upside and that technical set-up is still valid, will be watching both XLF and TLT (lower TLT (bonds) generally good for banks) as it indicates higher rates. Keep in mind this is a daily chart and while we are looking for a wave 3 higher, time and patience might be required here, but the idea is overall bullish and we shall see how price action unfolds. Will re-evaluate if prices fall below the recent wave 2 around $26.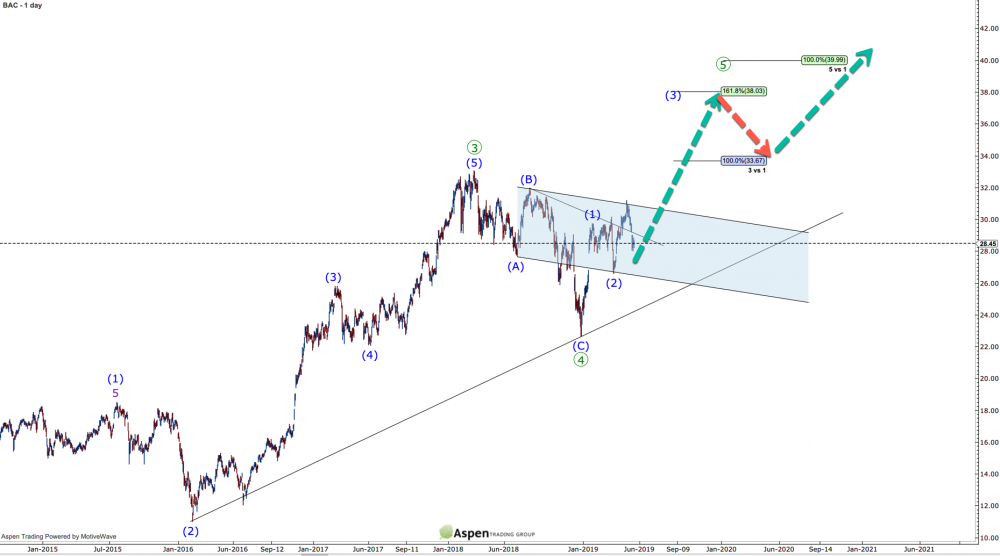 2. CTXS – Looking to the short side in a potential Wave C move out of a triangle. Would not want to see prices above $99 and that's our re-evaluation point. Targeting $90 initially.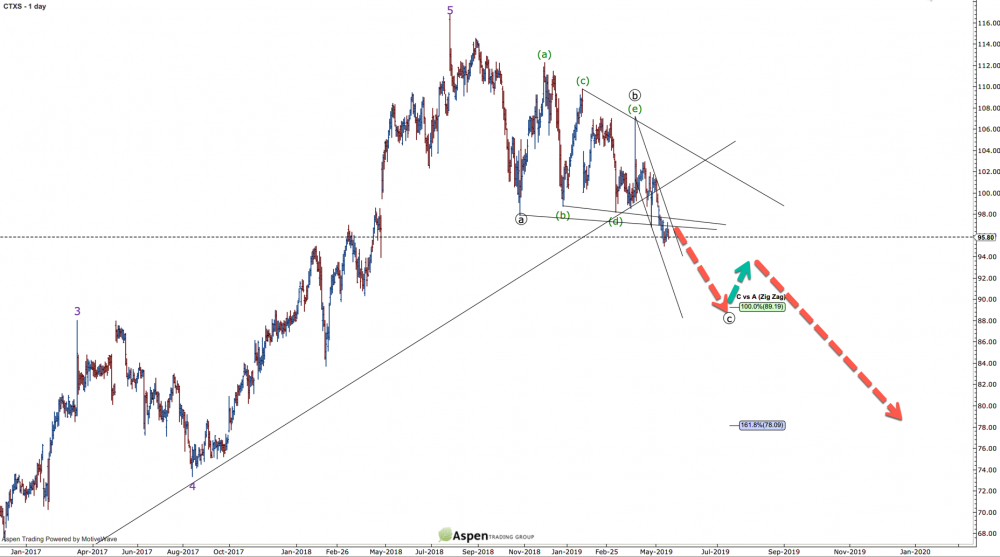 May 12, 2019 Update (for reference)
Welcome to the weekly recap – hope everyone enjoyed the volatility this week and was profitable! Before we get into last weeks ideas, we want to take some time to share a few thoughts around discipline.  On your journey to becoming a successful trader, it is crucial that you develop a disciplined mindset, beginning with a defined system or methodology behind each trade (essentially a "Why" for every trade).  We believe there are three key components to developing this mindset:
Keep a narrow focus – Narrow down the stocks/forex charts you want to focus on for the week/month.  Trading only a few instruments at any given time will allow you the focus needed to more effectively manage each position.
Have a plan for each trade and STICK to it as best as possible – Don't add to a losing position if you didn't plan for it and don't underestimate the importance of trade management (tightening stops, moving to break even, hedging etc….).   Know when you are getting in and when you are getting out of a trade before you get into it.
No FOMO – Train your brain to eliminate the Fear of Missing Out!  There are lots of opportunities out there and if you haven't planned for the trade, don't let the noise draw you into it.  Focus on what you HAVE planned for – your emotions will be much more controlled.
Sounds simple right? We assure you it's not.  We are fighting our own human emotions and it can be challenging.  It takes time and practice to harness our feelings and remain in control of our decisions as we trade. If you're taking the time to plan your trades ahead of time, I can assure you your trades will be better,  your emotions more controlled and decisions more confident.
This disciplined mindset is a key component of the service we want to provide to our clients.  We want to bring clarity to the chaos and help improve our clients' ability to trade their own ideas as well.
……..back to our regularly scheduled program, here is the recap of the trade ideas we highlighted last week (please scroll down to see the commentary and charts from last week):
1. ROKU – Great trade!  We said this stock had a lot of upside potential and wow did it ever!  We originally shared this idea at around $61.50 and it closed the week at almost $83 (with an $86 high). That's a heck of a move (>35%) that I hope you caught!  The overall objective has been achieved and will drop ROKU from our coverage. 
2. CRON – Stopped out for a fairly small loss even before earnings.   Nothing else to do here – coming off the list…for now. 
3. TTWO – Held up well during the market volatility and ended the week slightly higher. Earning are on Monday which is likely to get will get this stock moving again.   We have achieved the first target so far and we are after the $110-$115 as previously noted. 
4.  ABBV – Didn't decisively move in either direction (tested Jan lows) and so we are still on the sidelines.   
5. CVNA – Was a bumpy ride out of earnings, but ultimately the technical formation produced a strong move lower as expected.  Finished the week ~$6 lower (about 8%), and we should see another strong move lower and are looking for the $57 area to provide some initial support, and our first point to take some profits. Remain short, but certainly, manage the trade and your profits wisely as the week progresses.  
The updated chart on CVNA is below (see bottom of this email for the chart shared last week):
New Ideas for this week – (International Paper (IP) & Uranium ETF (URA))
URA – Not the sexiest of instruments to trade, but certainly one that has a solid risk-reward.  We had highlighted this chart a few months back and were able to get about an 8% move higher before reversing back down.  We see this area as a solid support zone that should hold against the lows of January.  An alternative stop loss is below last weeks low (depending on your risk tolerance).

IP – A stock that we have been favouring to the upside for a few months now but prices have consolidated in a fairly tight range.  Still, like the upside for a move into the $55 area.
LAST WEEKS CHARTS AND COMMENTARY
TTWO – Has played out exactly as forecasted thus far (8%+ higher) – achieved the first target of $100.  Looking for $110+ if the uptrend continues.
Still bullish, but pullbacks to $94-$96.50 area are certainly possible and present an opportunity to add/re-enter the trade. Original and updated charts below:

ROKU – With earnings coming up next week (on the 8th), this stock has the potential for a sustained move higher. The original chart is posted below, prices have moved higher by about 6% (now trading at around $64.70). Profit taking into earnings is the right move but would want to be in this trade for the earnings as well. The highlighted zone below is still the line in the sand.
CRON (Marijuana stock) – Prices haven't done much since our last update (original chart below) – still looking for a move "higher" (see what I did there?)  Anyway, bad jokes aside, will look at $15.20 as a stop loss for anyone who's long….which makes for a solid risk/reward. Targets are open for now.
ABBV – We've been PATIENTLY watching this stock for weeks now – a break of recent lows or a break of $81.80 to the upside both should produce strong moves both long and short. Our bias is bullish (as the potential for a bigger move is to the upside), but will let price action get us into either trade.
CVNA – I could say a lot about the issues we see with this company and its parabolic move recently, but price action is king and it's been on a tear!  Earnings are coming up next week and so the catalyst is there for a sharp move lower. This idea would best be executed through the options vs an outright sell.