The Chart Book – Towers of Carvana Tipping Over?
Welcome to the Weekly Chart Book – last week we mentioned that a test of 2800-2835 was likely in the S&P; well we did get that test and bounced off 2805.  In our weekly video  we discuss the likelihood of another leg lower in the coming week(s).  Given this decision point, we are going to remain less aggressive for now until we get some clarity. 
This week, we'd like to open up the floor for some feedback. As we continue to expand our Stock Service, we'd like your thoughts on this newly added "Chart Book" commentary.  Please drop us a line to provide your feedback/questions...what's working well, what else you'd like to see or any specific stocks you want Aspen to cover. 
We invite and appreciate your feedback. Communicate with us:
Via email – service@aspentrading.com
Through our  "Ask Dave" segment – https://www.aspentrading.com/lp/ask-dave/
Diving into our open positions and new ideas below…
Please note: We've only included last week's commentary in this email, if you'd like to see the previous postings, they can be found on our site: https://www.aspentrading.com/blog/
Running total of our closed positions: (net % moves of the stock)
1. ROKU – Gain of 35%
2. CRON – Loss of 8%
3. TTWO – (Gain of 8% 1/2 position) 

Let's review our open positions:
1. TTWO (Long from $93) – Last week we adjusted our stops on our remaining position to $97.50 to lock in some more profits.  With no risk remaining (barring a gap move) and having already taken some profits at $100, nothing to do here.  Maintain long positions, targeting $113 in the short term.  Solid trade.  (Original and updated charts below)
2. ABBV (Long from $91) – After weeks of watching, we finally have a position on this stock.  We went long at $81 and are currently sitting at $80.   Obviously, the overall market weakness has not helped this position but it has remained fairly strong.  The stops we cited at $75.50 remain intact – that's about a 7% risk. 

3. CVNA (Short from $72) – A great trade that has followed our technical forecast very well – currently trading at $59 (a 20% move lower thus far).  While we were originally looking for the $57 area to take initial profits, we are not going to get greedy here – recommend taking profits on the open (hopefully at $59 or lower), we are moving stops to $70 on the remaining position.   
We've attached a chart below of the major institutional holders of CVNA and their entry prices – a lot of the positions are from the high $30's/early $40 range.  If we get down to those prices (and we think we will), there may be some buying from these big players in order to protect their positions….something to watch out for.  (Original and updated charts below.)
4. URA (Long from $11.60) –  Nothing to add here, staying long with $10.95 stops (~6% risk).  Last week we talked about getting above $11.70 to add more confidence in this trade and are still looking at that figure to get some momentum going. 
5. IP (Long from $44) – We've traded lower and closed at $42.60 last week.  Staying long, my conviction on this trade is waning; may need to manage this one next week if the S&P decline continues. 
6. BAC (Long from $28.40) – Essentially flat in this position, nothing to do here, continue to hold.
7. CTXS (Short from $96) – Prices have moved slightly in our favor. Hold.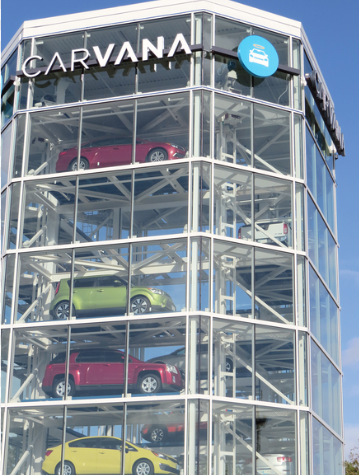 Original and updated charts for CVNA and TTWO:
CVNA – Are The 'Carvana Towers' Ready to Fall?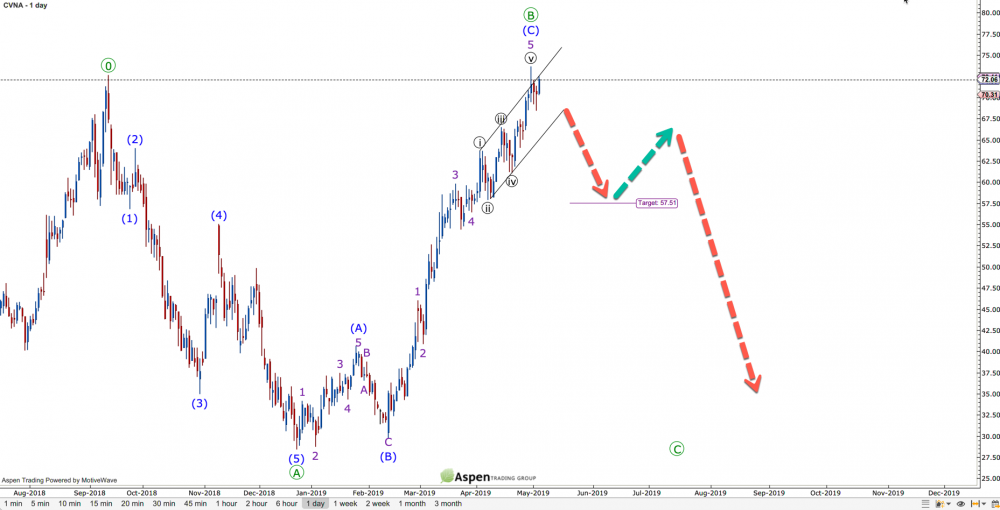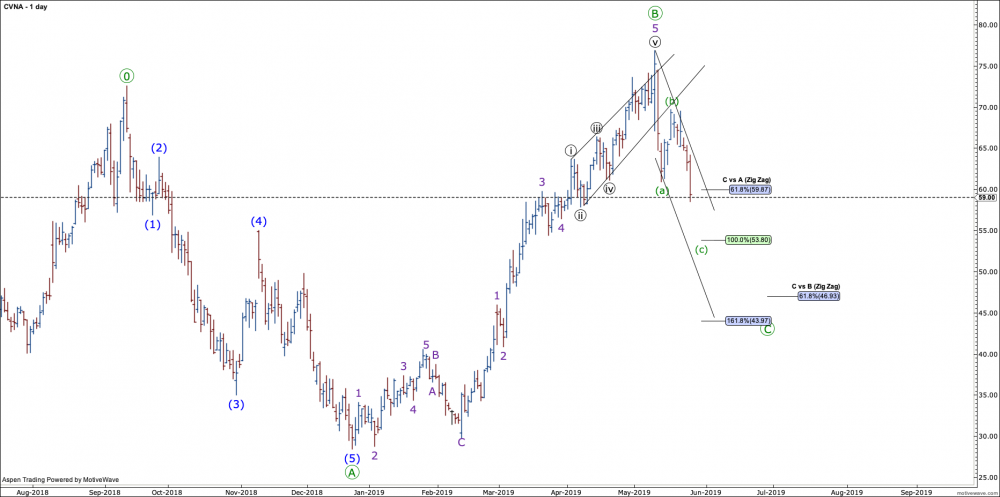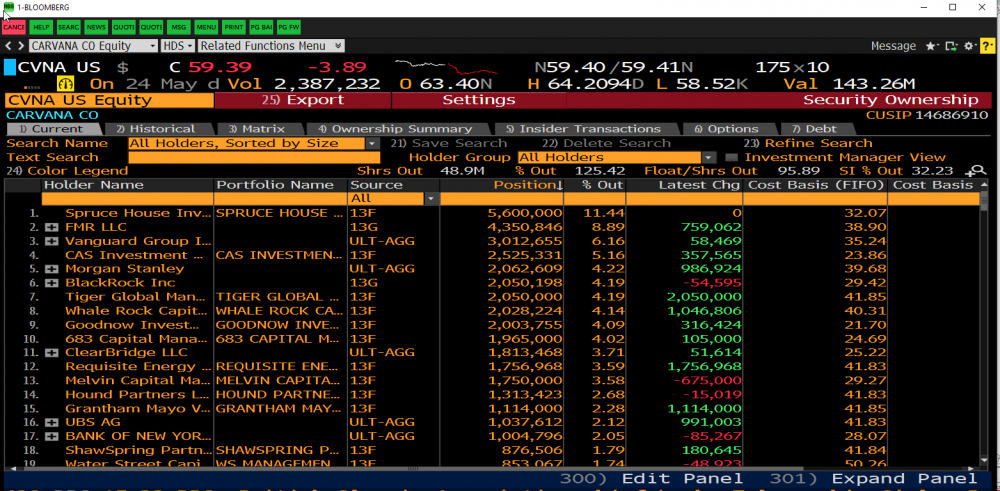 TTWO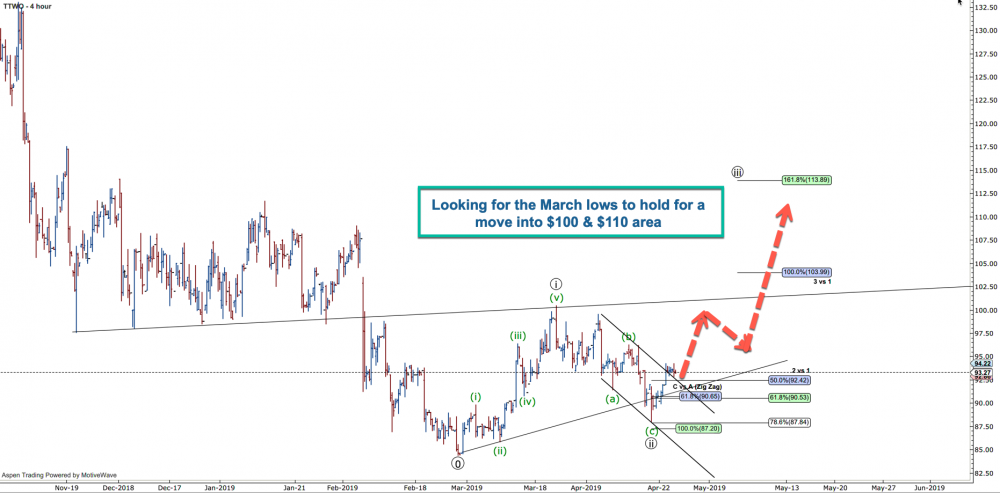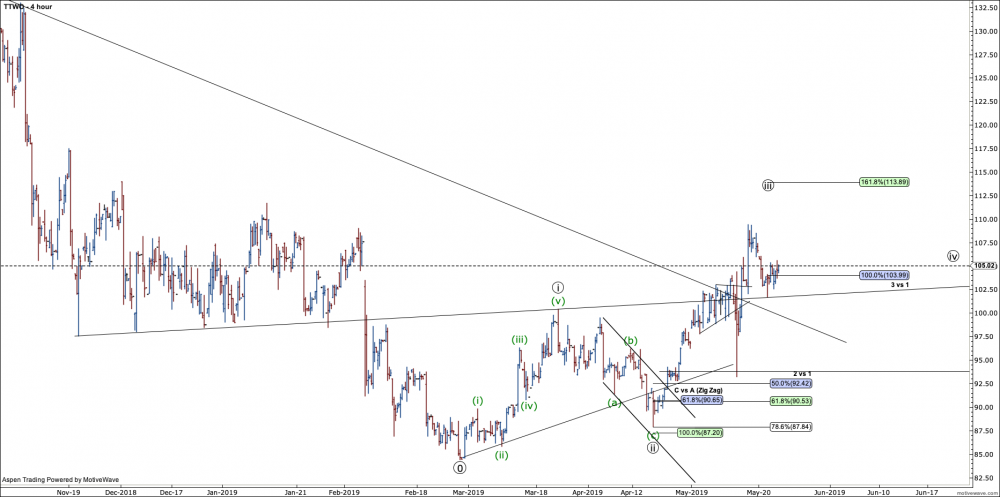 New ideas for this week –  Amazon (AMZN)
AMZN– As we see some potential weakness ahead in the markets and we've got quite a few long positions out there, this stock appears to have room for a healthy correction.  The preferred approach would be to sell into strength ($1,851-1,869 zone) with stops at $1,920 (less than 4% of risk)…position size accordingly if you'd rather play the options.  Alternatively, selling a break of $1,803 is also an option.  In the very short term, we are targeting $1,769 and $1,680.   Scale-out of your positions at those two levels if the trade goes our way.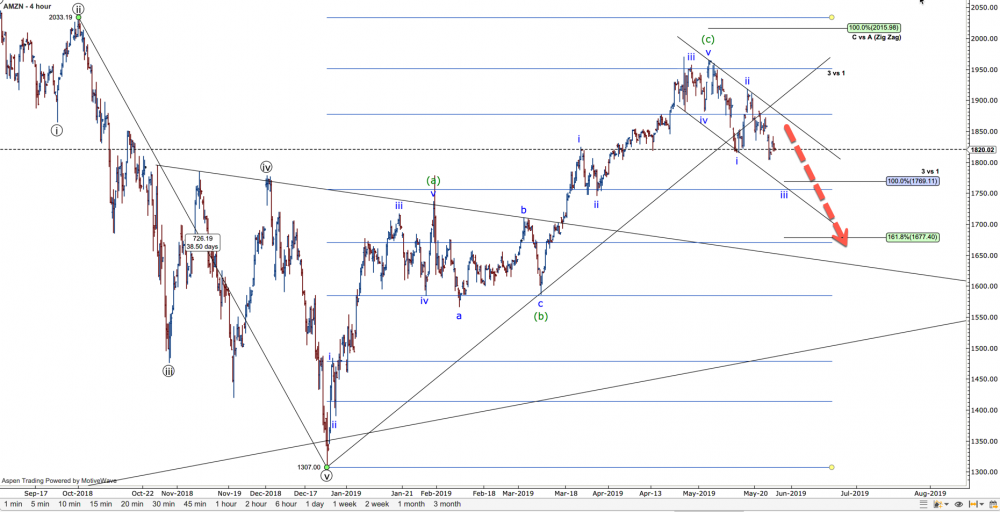 Last weeks commentary (May 19th)
Welcome to the weekly recap – Starting off with a look at the S&P overall, I'm hesitant to draw any conclusions on a decisive move higher/lower; we have legitimate wave counts in both directions, so being more patient and risk-averse is a sound strategy for this week. I can see prices re-testing the 2800-2835 zone with 2800 being a very important line in the sand looking to the short/medium term.
That brings me to a thought for this week around the importance of having a fairly balanced portfolio – not having your positions too skewed to one side is VERY important, and this is against your entire portfolio (longer-term investments, short term trades etc…). If your portfolio is mostly long positions, you may want to forgo some of the bullish trades and add a few bearish ones and vice-versa. This is a very good way to manage overall portfolio risk.
Let's dive into the recap of last weeks ideas:
*For ease of reference, we've left the previous updates in this email below this weeks commentary…
Closed positions: (net % moves of the stock)
1. ROKU – Gain of ~35%
2. CRON – Loss of ~8%
1. TTWO (Long from $93) – Last week's high was $109.50 (so just shy of entering our $110-$115 zone), having already booked about 8% profits on this position (into our first target of $100), we can adjust our stops to $97.50 (locking in about $4 of profit) and look to exit another portion at $113. If $113 is hit, I would encourage you to keep a portion of your position open for higher levels – which we can get into if prices reach this objective.
2. ABBV – Again, no breakout occurred here, we are going to look to be buyers at $81 with $75.50 stops (about a 7% stop loss). Confidence in the longs grows if prices move above $85, at which point we would bring stops to break even.
Also, be open to selling below the January lows.
3. CVNA – Prices moved lower into $61 before moving back up to nearly $70. The formation is still intact and we continue to look for lower prices. If you have shorted the stock, move stops to break even. If in options, continue to hold.
4. URA – Largely unchanged from last week, would like to see prices move above $11.70 which should produce a move to the upside – stay long.
5. IP – Prices fell into the "c" wave highlighted on the chart around $44 and are trading slightly higher – staying long. Stops could be really tight at $43.50, but ultimately this count is valid against the $37.50 lows. Each trader will manage risk differently, but you can certainly use those levels as it fits into your style.
New Ideas for this week – Bank of America (BAC) & Citrix Systems (CTXS)
1. BAC – We had recently traded XLF to the upside and that technical set-up is still valid, will be watching both XLF and TLT (lower TLT (bonds) generally good for banks) as it indicates higher rates. Keep in mind this is a daily chart and while we are looking for a wave 3 higher, time and patience might be required here, but the idea is overall bullish and we shall see how price action unfolds. Will re-evaluate if prices fall below the recent wave 2 around $26.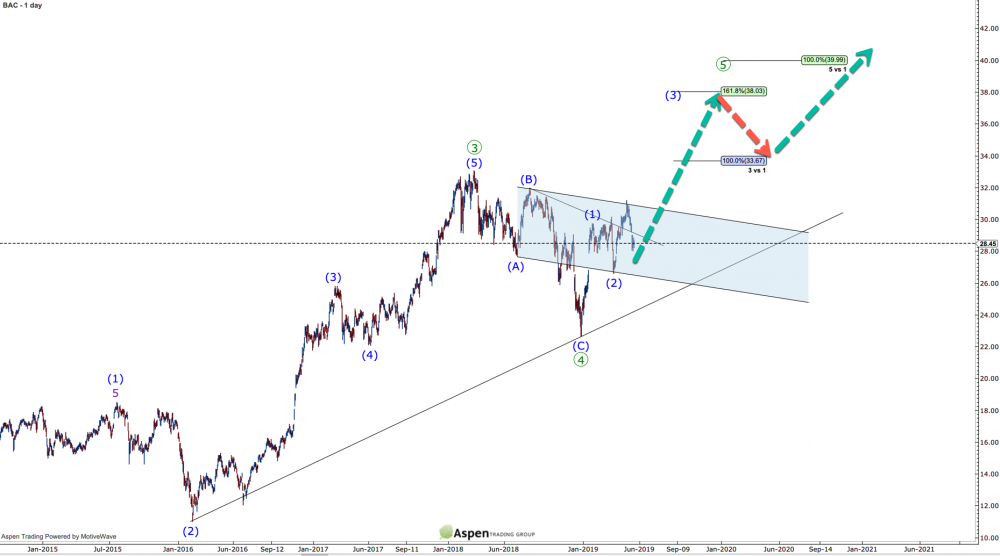 2. CTXS – Looking to the short side in a potential Wave C move out of a triangle. Would not want to see prices above $99 and that's our re-evaluation point. Targeting $90 initially.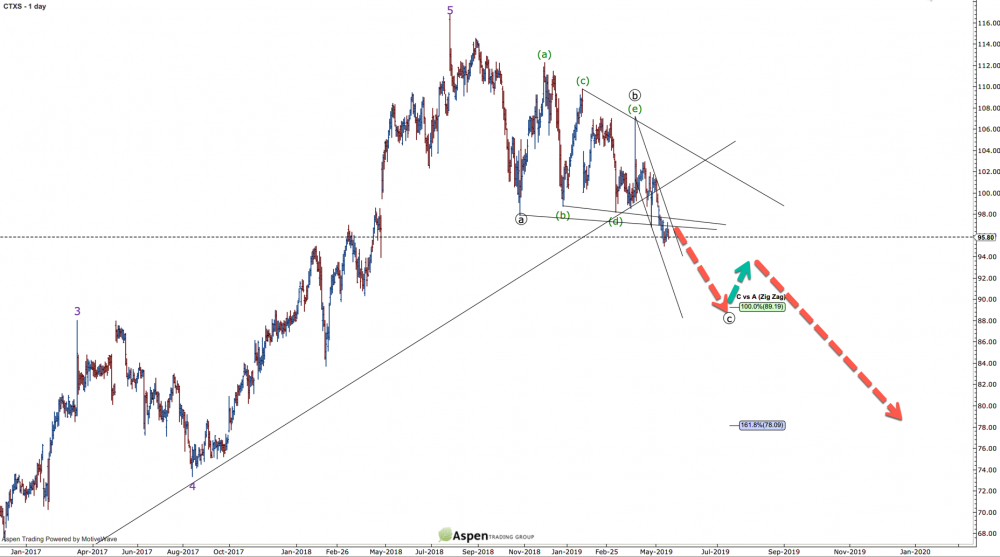 Get Your Game Plan.
Start Your 14-Day Trial Today.